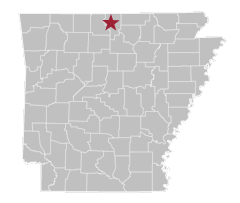 Charles Edward Scharlau was born on April 27, 1927, in Chicago, Illinois, and grew up in Mountain Home, Baxter County, Arkansas. He served in the marines during World War II and utilized the GI Bill to earn his J.D. from the University of Arkansas in 1951.
Scharlau's legal career began at Arkansas Western Gas, now known as Southwestern Energy, where he eventually served as vice president. He then became president and CEO until retiring in 1998, after which he continued as a consultant to the company. Under his guidance, the corporation reorganized into separate holding, utility, and exploration/production companies. Scharlau has also worked as a legal adviser for the Conner & Winters law firm.
Scharlau was the chairman of the Fayetteville Chamber of Commerce and the president of the Arkansas Chamber of Commerce. He has served on the board of directors for the Razorback Foundation and the University of Arkansas System Board of Trustees and established the Charles E. and Clydene Scharlau Charitable Remainder Annuity Trust.
Scharlau passed away on June 18, 2021.