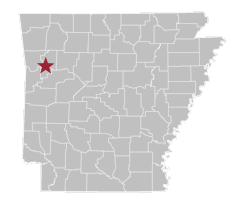 Betty Lou Flanagan Bumpers was born in Grand Prairie, Franklin County, Arkansas, on January 11, 1925.
Bumpers attended Iowa State University, the Chicago Academy of Fine Arts, and the University of Arkansas. She taught elementary school in Charleston, Arkansas. In 1949 she married Dale Bumpers and later helped him with the desegregation of the Charleston Public School District, which began in 1954.
In 1971 Bumpers began the Every Child By '74 campaign to immunize the state's children. After moving to Washington, DC, in 1975, she expanded the program with the support of Rosalynn Carter, the Centers for Disease Control, and the Department of Health, Education, and Welfare. Bumpers extended her work again in 1982 when she helped found Peace Links, an international organization of women concerned with issues of nuclear arms proliferation and peace. The group aimed to achieve change through education and discussion. In 1991 Bumpers and Carter launched Every Child By Two – Carter/Bumpers Champions for Immunization. Bumpers' commitment to the issues of childhood vaccination and to AIDS vaccine research prompted President Bill Clinton to create the Vaccine Research Center in 1999.
In 2008 Bumpers returned to Arkansas, where she has served on the advisory board for the Arkansas chapter of Women's Action for New Directions. She has also served on the advisory board for the National Peace Foundation. Bumpers received the 2012 Billie Ann Myers Paragon Award in recognition of her volunteerism and promotion of childhood vaccination and was inducted into the Arkansas Women's Hall of Fame in 2015.
Bumpers passed away on November 23, 2018.