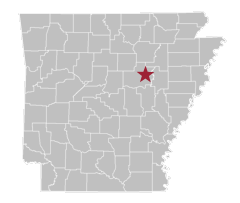 J. Wayne Cranford was born in Bald Knob, White County, Arkansas, on January 1, 1933.
Cranford earned a bachelor's of science degree in journalism from Arkansas State Teachers College in Conway. After graduation he taught English in his hometown at Bald Knob High School.
Cranford relocated to Little Rock in 1955 where he held several positions at the Arkansas Democrat . He then served as the director of public relations at the Little Rock Chamber of Commerce before joining the advertising agency of Thomas C. Hockersmith and Associates in 1958. Three years later Cranford and coworker Jim Johnson formed their own agency, Cranford Johnson, Inc., which later became Cranford Johnson Robinson Woods. Cranford retired from CJRW in 1993.
He was appointed by President Bill Clinton to chair the President's Advisory Committee for the Arts and served from 1994 to 2001. Cranford was president of the Southwestern Association of Advertising Agencies. He served on the boards of the Arkansas Children's Hospital, the Arkansas Symphony Orchestra, and the Arkansas Repertory Theater.
Cranford passed away on February 15, 2020.