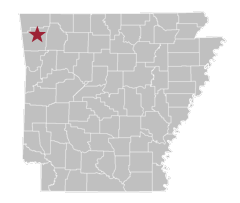 William Hayden McIlroy Jr. was born on November 22, 1939, in Fayetteville, Washington County, Arkansas.
McIlroy attended the University of Arkansas and earned a bachelor of science in business administration. Before he graduated, he served in the marines. After graduation, he became the owner and CEO of McIlroy Bank, which his father had established in 1871. He sold the bank to Arvest Bank in 1986 and moved to Dallas, where he became involved in real estate investment.
McIlroy has served on the board of directors of the Arkansas Industrial Development Commission, the Arkansas Bankers Commission, the Fayetteville Youth Center, and the Boy Scouts of America for Northwest Arkansas.
In 1871 the McIlroy family, one of the founding families of Fayetteville, sold 160 acres of land to the state for the establishment of the Arkansas Industrial University, which later became the University of Arkansas. In 2006 he established the McIlroy Family Visiting Professorship in Performing and Visual Arts at the university.