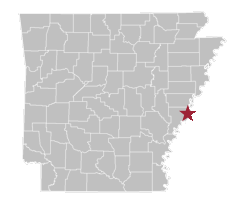 Blanche Meyers Lambert Lincoln was born in Helena, Phillips County, Arkansas, on September 30, 1960.
Lincoln earned her bachelor's degree in biology at Randolph-Macon Woman's College in Lynchburg, Virginia, in 1982. She moved to Washington, DC, and became an aide to Congressman Bill Alexander before joining the law firm Broadhurst, Brook, Mangham, Hardy and Reed. Lincoln then worked for tax attorney Ted Jones and later for the government-relations firm Pagonis and Donnelly Group.
Lincoln served in the United States Congress from 1992 to 1996, where she sat on the Energy and Commerce, Natural Resources, and Agriculture Committees. In 1999 she became the youngest woman ever to serve as a US Senator. Lincoln sat on several Senate committees, including the Committee on Finance, and was the first woman to chair the Committee on Agriculture, Nutrition and Forestry. Since leaving public office in 2011, Lincoln has been elected to the board of Entergy Corporation, worked with Senator Bob Dole at Alston and Bird LLP, and started the Lincoln Policy Group.