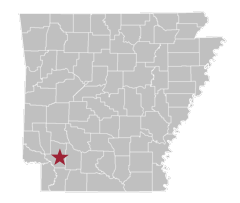 William Howard "Buddy" Sutton was born on March 13, 1931, in Hope, Hempstead County, Arkansas.
Sutton graduated from Hope High School in 1949. He received a B.S.B.A. from the University of Arkansas, where he distinguished himself as a Razorback football player. Sutton served in the United States Air Force for two years, then returned to the University of Arkansas Law School.
Upon graduating with a Juris Doctor in 1959, Sutton began practicing law with Mehaffy, Smith & Williams law firm, now known as Friday, Eldredge & Clark, where he served as managing partner from 1994 until his retirement in 2005. The Arkansas Bar Association named Sutton Outstanding Lawyer of the Year in 1990. He served as president of the Pulaski Bar Association in 1992-1993.
Sutton served on the University of Arkansas Board of Advisors, the Ouachita Baptist University's Board of Trustees, and numerous other boards. The William H. Sutton School of Social Sciences at Ouachita Baptist University is named for him. In 2001, Sutton was inducted into the Arkansas Sports Hall of Fame, which presents the William H. "Buddy" Sutton Meritorious Service Award in his honor each year. He was named the 2004 Easter Seals Arkansan of the Year.
Sutton passed away on July 2, 2015.