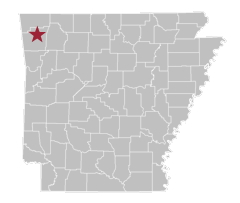 James "Jim" Burton Blair was born in Elkins, Washington County, Arkansas, on October 27, 1935, and raised in Fayetteville, Arkansas.
He attended the University of Arkansas and earned a degree in law in 1957. As an attorney, Blair worked on high-profile cases, including Dun & Bradstreet, Inc. v. Robinson,   and served as general counsel for Tyson Foods, Inc. In 1980 Governor Bill Clinton appointed him as National Democratic Committeeman.
Blair provided significant funding to build the Fayetteville Public Library. Additionally, he has served on the University of Arkansas Board of Trustees and on the boards of the Fayetteville Library Foundation, the Fayetteville Education Foundation, the Schmieding Foundation, and the Tyson Family Foundation.