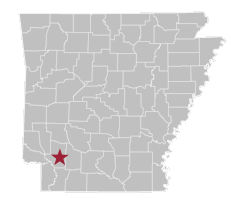 Randall Carter Ferguson Sr. was born on February 17, 1919, in Hope, Hempstead County, Arkansas. He moved to Camden, Ouachita County, Arkansas, with his brother while still in high school.
Ferguson spent several years in the Civilian Conservation Corps before serving in the Fifth Army 92nd Division in World War II. After leaving the military, he operated a family restaurant in Camden where he later opened Ferguson's Lounge. This establishment attracted a number of prominent musicians, including Count Basie, B.B. King, and Cab Calloway.
Ferguson was the coroner of Ouachita County for two years. He also worked in security for several years and was selected to be the first black deputy sheriff in Ouachita County.
Ferguson and his wife, Lizzie B. Howard Ferguson, raised four sons and one daughter.