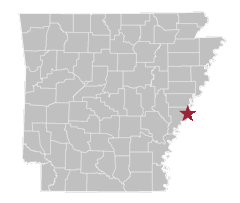 John William "Sonny" Payne was born John William Payne in Helena, Phillips County, Arkansas, on November 29, 1925. Payne joined the US Army and served in the Seventy-fifth Signal Battalion.
After his military service, he worked as a touring musician. However, "Sunshine" Sonny Payne is best known for his long-running blues radio show, King Biscuit Time,  which he began hosting in 1951 at Helena radio station KFFA.
A Blues Hall of Fame inductee, he has earned numerous awards, including a Peabody Award, the Pioneer Award from the Arkansas Broadcaster's Association, and the Keeping Blues Alive Award from the Blues Foundation.
Payne passed away on February 9, 2018.