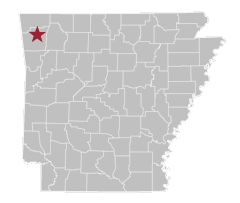 Barbara Jean Lunsford Pryor was born in Westville, Oklahoma, on May 5, 1938, to Walter and Rosa Lee Lunsford. The family moved to Bentonville, Arkansas, and then settled in Fayetteville, where Barbara grew up with four brothers: Porter, Gary, David, and Scott.
After graduation from Fayetteville High School, Barbara enrolled in the University of Arkansas and met senior classman David H. Pryor in her freshman year. They were married in Fayetteville on November 28, 1957, and moved to Pryor's hometown of Camden where they started the weekly newspaper, Ouachita Citizen. 
Barbara became David's political partner when he entered public service as a state representative in 1960. She served as first lady of Arkansas, where she oversaw all the public and family activities at the Governor's Mansion. As the wife of a US congressman and senator, she has hosted and participated in many public and charitable events throughout her life.
Barbara established parallel careers as an interior design consultant and decorator. She is an accomplished art collector with a passion for supporting Arkansas artists. She worked briefly in the film industry, first as a script girl for the film, The Town That Dreaded Sundown, and then  as the executive producer of the film, Wishbone Cutter. 
In 1999 Senator Pryor donated unspent campaign funds to found the Arkansas Center for Oral and Visual History at the University of Arkansas, which was later renamed in the Pryors' honor.
The Pryor's have three children, David Hampton, Jr., Mark Lunsford and Scott Newton Pryor and four grandchildren, David H. III, Adams, Porter, and Devon.