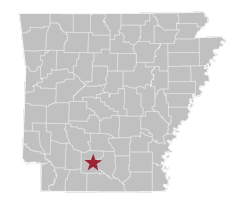 Lizzie B. Howard Ferguson was born on November 12, 1929, in Homer, Louisiana. She moved with her family to Camden, Ouachita County, Arkansas, while still a child. Ferguson attended Velvatex Beauty College in Little Rock.
One of her first afterschool jobs was at Ferguson's restaurant, where she cooked, waited on tables, and maintained the business's financial records. After marrying Randall Carter Ferguson, she ran her own beauty salon for several years, while continuing to help with Ferguson's Lounge. Ferguson then worked at BEI for three decades, earned her GED, and worked her way up to QA supervisor before the plant closed in 1996.
Ferguson and her husband raised four sons and one daughter.