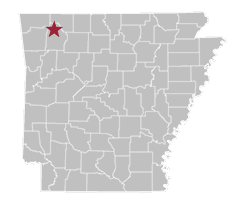 Ronald "Ronnie" Cornett "The Hawk" Hawkins was born in Huntsville, Madison County, Arkansas, on January 10, 1935.
Hawkins attended the University of Arkansas as a physical education major. He served in the army briefly before concentrating on his music career.
Hawkins started his band, The Hawks, in Fayetteville where he owned the famous Rockwood Club and other venues. He moved to Ontario, Canada, and landed his first record deal with Roulette Records in 1959. His early recordings included "Mary Lou" and "Forty Days." Hawkins toured a circuit between the US and Canada, discovering and cultivating other noted musicians that eventually gave birth to The Band, one of the most highly regarded and influential bands in rock and roll history. One of the original rockabilly musicians, Hawkins was awarded the Special Achievement Award from SOCAN in 2007.
Hawkins passed away on May 29, 2022.