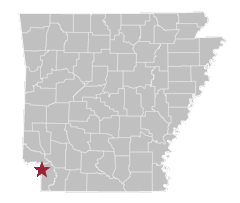 Joseph Franklin McWilliams was born in Texarkana, Miller County, Arkansas, on February 27, 1916.  In 1921 the family moved to El Dorado, Arkansas, to find work in the booming oil industry.
He attended the College of Business at the University of Arkansas, graduating in 1938.  McWilliams enrolled in the ROTC in Louisiana and enlisted in the army as a 2nd Lieutenant during World War II.
After serving overseas, McWilliams worked as an accountant for the army at the Red River Arsenal in Texarkana, Texas.  Later he worked in the private sector and served on the Arkansas Public Service Commission.
McWilliams passed away on December 26, 2013.