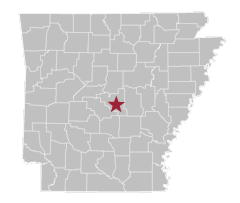 Clyde Luther "Smackover" Scott was born in Dixie, Louisiana, on August 29, 1924. He grew up in Smackover, Union County, Arkansas.
Scott attended the United States Naval Academy until he was recruited by Coach John Barnhill to transfer to the University of Arkansas, Fayetteville. As a Razorback, Scott was on the track and football teams. In track, he placed first in the 110-meter high hurdles in the NCAA championship in 1948. He won the silver medal in the same event at the London Olympics.
In football, he played against LSU in the 1947 Cotton Bowl, where he stopped the opposing team on the one-yard line and forced a tie. Barnhill considered him one of the best defensive players he had ever coached. As a professional athlete, he played football for the Philadelphia Eagles and the Detroit Lions.
One of Arkansas's greatest athletes, Scott was inducted into the College Football Hall of Fame, the Arkansas Sports Hall of Fame, and the Arkansas Track and Field Hall of Fame.
Scott passed away on January 30, 2018.