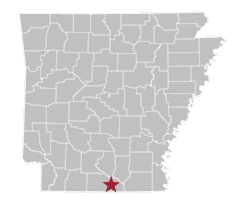 Carolyn Ann Smith-Williams was born in the Ebenezer community of Strong, Union County, Arkansas, on October 28, 1946.
Smith-Williams entered Arkansas AM&N College in Pine Bluff in 1966. She graduated with a degree in institutional dietetics and went to work for Warner Brown Hospital in El Dorado. Smith-Williams stayed there for six months before joining the United States Navy as medical staff in 1972.
After her retirement from the US Navy in 1999, Smith-Williams began collecting historic slave and sharecropper artifacts, starting with those from her own family. She founded and runs the Quilted History Museum in El Dorado, Arkansas. Smith-Williams was honored for her contributions to the community at the 2017 Jimmy Reed Jr. Memorial Scholarship Banquet, which is presented by the Pride and Progress Club of El Dorado.