Arkansas Democrat Project
The Arkansas Democrat oral history projec t was launched in Spring 2005 to capture the history of the publication's operations in the late twentieth century with a focus on the famous newspaper war with the Arkansas G azett e . Democra t publisher Walter Hussman Jr. renamed the newspaper the Arkansas Democrat - Gazette when he bought the Gazette's assets in 1991 . The Hussman Foundation has provided generous funding for this project .
Jerry McConnell, who has had a distinguished career in print journalism , has serve d as the project director. He took his first newspaper job with the Arkansas Democrat in 1951 before moving to the Gazette in 1955. He returned to the Democrat in 1971 as managing editor and remained there until 1978 when he moved to Oklahoma to work for both the Oklahoman and the Oklahom a City Times. He retired in 1991 and moved to Green wood, Arkansas .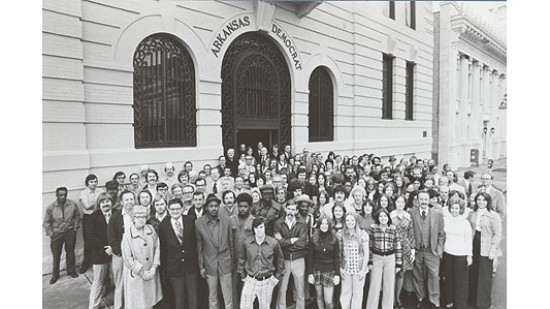 Arkansas Democrat employees pose in the mid-1970s. The man on the far right is publisher Walter Hussman Jr.
&copy Photograph courtesy of Jerry McConnell
| | | | | |
| --- | --- | --- | --- | --- |
| | | Interviewee | Interviewer | Date |
| A | | Adams, Gregory | Jerry McConnell | 11/08/2007 |
| | | Allbright, Charles | Jerry McConnell | 05/15/2005 |
| | | Allen, Amanda | Carol Stogsdill | 08/12/2006 |
| | | Allen, Jim | Jerry McConnell | 02/01/2007 |
| | | Anderson, Phillip | Jerry McConnell | 02/27/2007 |
| | | Arnold, George | Tim Hackler | 04/20/2005 |
| B | | Bailey, Jim | Jerry McConnell | 06/14/2005 |
| | | Baldridge speed, Julie | Mel White | 06/29/2005 |
| | | Baldwin, Ralph | Jerry McConnell | 02/09/2007 |
| | | Berry, Allen | Jerry McConnell | 05/04/2006 |
| | | Berry, Arminta | Jerry McConnell | 06/03/2005 |
| | | Bradburn, Cary | Jerry McConnell | 11/08/2007 |
| | | Brandon, Phyllis | Jerry McConnell | 07/02/2005 |
| | | Burnham, Ron | Jerry McConnell | 09/04/2005 |
| C | | Campbell, Fred | Mel White | 08/10/2005 |
| | | Casey, Ralph | Jerry McConnell | 07/29/2005 |
| | | Clay, Jerrilyn | Mara Leveritt | 07/18/2005 |
| | | Cox, Patti | Mara Leveritt | 08/12/2005 |
| | | Cranford, Wayne | Phyllis Brandon | 06/04/2005 |
| D | | Daniel, Sheila | Mel White | 10/14/2005 |
| | | Davies, David | Jerry McConnell | 06/13/2007 |
| | | Day, Barbara | Jerry McConnell | 02/23/2006 |
| | | Dean, Jerry | Jeanne Rollberg | 07/20/2005 |
| | | Deering, John | Jim Bailey | 08/15/2007 |
| | | Dickinson, Sam | Jerry McConnell | 02/12/2007 |
| | | Donald, Leroy | Brenda Tirey | 02/02/2006 |
| | | Doty, Gerald | Jerry McConnell | 08/29/2006 |
| | | Dougan, Michael | Jerry McConnell | 03/07/2007 |
| E | | Eddins, Bill | Gerald Jordan | 07/22/2005 |
| | | Elkins, Connie | Brenda Tirey | 06/30/2004 |
| F | | Fellone, Frank | Phyllis Brandon | 07/13/2005 |
| | | Fields, Arlin | Dan Farley | 07/14/2005 |
| | | Finch, Jackye | Phyllis Brandon | 06/25/2005 |
| | | Foreman, Gene | Jerry McConnell | 07/15/2006 |
| | | Funk, Betty | Jerry McConnell | 02/24/2006 |
| G | | Gamble, Marguerite | Phyllis Brandon | 09/03/2005 |
| | | Garrett, Chester | Jerry McConnell | 07/30/2005 |
| | | George, Marcus | Jerry McConnell | 05/14/2005 |
| | | Graham, Larry | Jerry McConnell | 06/01/2006 |
| | | Greenberg, Paul | Jerry McConnell | 08/21/2007 |
| | | Greene, Omar | Garry Hoffmann | 07/28/2007 |
| | | Greenwood, Ramon | Jerry McConnell | 01/29/2007 |
| H | | Hackler, Tim | George Arnold | 05/12/2005 |
| | | Hall, Wally | Frank Fellone | 06/09/2005 |
| | | Hamilton, Lynn | Jerry McConnell | 05/04/2006 |
| | | Harrison, Eric | Celia Storey | 07/28/2005 |
| | | Hays, Steele | Amanda Miller Allen | 04/30/2005 |
| | | Hemingway, Charles | Charles Hemingway | 06/30/2006 |
| | | Hemingway, Charles | Jerry McConnell | 06/30/2006 |
| | | Hemingway, Collins | Collins Hemingway | 10/01/2006 |
| | | Herrington, Gene | Jerry McConnell | 02/16/2005 |
| | | Hoge, Alyson | Jerry McConnell | 11/18/2005 |
| | | Holmes, Martin | Gary Rice | 08/27/2005 |
| | | Holt, Bob | Sam Krebs | 08/21/2005 |
| | | Hood Jones, Beverly | Mara Leveritt | 07/20/2005 |
| | | Hussman, Walter | Roy Reed | 06/30/2004 |
| | | Hussman, Walter | Jerry McConnell | 02/19/2009 |
| | | Husted, Bill | Steele Hays | 01/28/2006 |
| J | | Jeffrey, Estel | Jerry McConnell | 07/31/2006 |
| | | Jordan, Gerald | George Arnold | 05/05/2005 |
| K | | Kaufman, Ken | Jerry McConnell | 03/25/2006 |
| | | Kelly, Charles | Jerry McConnell | 11/18/2005 |
| | | Kennedy, Jon | Bob McCord | 05/15/2006 |
| | | Kennedy, Mary | Gerald Jordan | 07/24/2005 |
| | | Kirby, Martin | Jerry McConnell | 05/31/2007 |
| | | Kirkendall, Mike | Jerry McConnell | 02/08/2007 |
| | | Koonce, Gerald | Garry Hoffmann | 08/22/2007 |
| | | Krebs, Sam | Bob Holt | 08/21/2005 |
| L | | Lancaster, Bob | Mara Leveritt | 06/06/2005 |
| | | Leveritt, Mara | Mel White | 04/27/2005 |
| | | Lorenzen, Rod | Arlin Fields | 07/27/2005 |
| M | | Masterson, Mike | Tim Hackler | 08/21/2005 |
| | | Mathis, Deborah | Jerry McConnell | 06/16/2007 |
| | | May, Al | Jerry McConnell | 04/16/2007 |
| | | McConnell, Jerry | Jerry McConnell | 09/11/2008 |
| | | McCord, Robert | Jerry McConnell | 06/03/2005 |
| | | Miller, Nancy | Elisa Crouch | 06/19/2006 |
| | | Mobbs, John | Jerry McConnell | 06/22/2006 |
| | | Morris, Andy | Jerry McConnell | 04/27/2007 |
| | | Morrow, Fred | Jerry McConnell | 06/12/2005 |
| | | Moss, Randy | Jerry McConnell | 02/09/2009 |
| N | | Nelson, Rex | Jerry McConnell | 05/03/2007 |
| O | | Oswald, Mark | Jerry McConnell | 06/13/2007 |
| P | | Patrick, Ralph | Amanda Miller Allen | 07/02/2005 |
| | | Peacock, Leslie | Mel White | 06/06/2005 |
| | | Petrucelli, Fred | David McCullum | 03/14/2006 |
| R | | Rea, Larry | Clay Bailey | 06/28/2007 |
| | | Reddoch, Dave | Jerry McConnell | 07/31/2006 |
| | | Rhodes, Sonny | Mara Leveritt | 08/26/2005 |
| | | Rice, Gary | Denise Gamino | 08/14/2005 |
| | | Rixse, Charles | Jerry McConnell | 07/15/2005 |
| | | Robinson, Ron | Jerry McConnell | 09/22/2005 |
| S | | Satter, Linda | Garry Hoffmann | 07/28/2007 |
| | | Shuemake, Jim | Jerry McConnell | 07/16/2005 |
| | | Simmons, Bill | Jim Bailey | 07/31/2007 |
| | | Smith, Griffin | Jerry McConnell | 08/20/2007 |
| | | Smith, Paul | Jerry McConnell | 03/21/2006 |
| | | Smith, Paul | Jerry McConnell | 12/09/2008 |
| | | Starr, Rusty | Jerry McConnell | 01/07/2009 |
| | | Steinmetz, Tucker | Jerry McConnell | 05/04/2007 |
| | | Stogsdill, Carol | Amanda Miller Allen | 08/21/2006 |
| | | Storey, Cecelia | Alyson Hoge | 10/20/2005 |
| | | Straw, Lynda | Brenda Tirey | 07/04/2005 |
| | | Sutton, Ozell | Jerry McConnell | 08/29/2006 |
| T | | Tardy, Randy | Garry Hoffmann | 02/11/2006 |
| | | Taylor, Bill | Meredith Oakley | 04/26/2006 |
| | | Taylor, Mary | Jackye Finch | 06/28/2005 |
| | | Terrell, David | Pamela Terrell | 03/24/2007 |
| | | Terrell, Pamela | Jerry McConnell | 03/28/2007 |
| | | Terry, Bill | Jerry McConnell | 05/31/2007 |
| | | Thomas, Robert | Arlin Fields | 06/17/2006 |
| | | Thompson, Teri | Jerry McConnell | 01/22/2007 |
| | | Tirey, Brenda | Mara Leveritt | 05/05/2005 |
| | | Tyson, Van | Bob McCord | 04/19/2006 |
| W | | Ward, John | Jerry McConnell | 09/23/2005 |
| | | White, Mel | Brenda Tirey | 07/12/2007 |
| | | Wilder, Jimmy | Jerry McConnell | 03/07/2007 |